On a surprisingly clear and warm June evening in San Francisco, surrounded by our friends and family, we finally got married. The ceremony in the de Young Museum sculpture garden capped off an amazing week of food, wine, and laughter with some of our favorite people.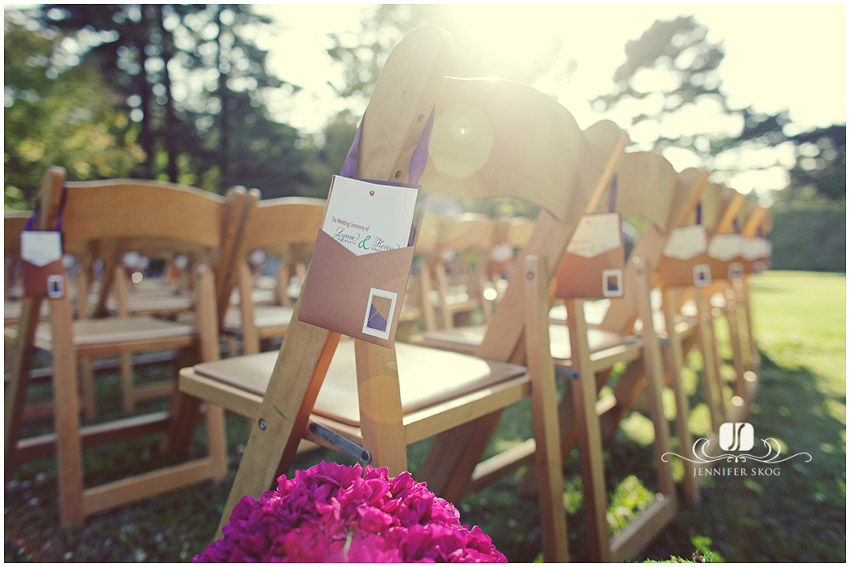 Everyone always says that life is a journey -- a fast paced, sometimes hectic, journey. The years, and memories, roll by faster and faster all the time.
But every once in a while it is important to pause and appreciate the special moments. For both of us, and hopefully our guests, this was one of those special moments to be treasured.
Ceremony Vows
I promise to share with you myself,
to communicate fully and fearlessly.
I promise to respect you deeply; your interests, desires, and needs,
and to try in every way to be worthy of your love.
I promise to laugh with you always,
and to laugh at you occasionally.
I promise to grow with you,
to face changes with you,
to overcome obstacles with you,
to enjoy contentment with you.
I promise to love and support you through joy and sorrow,
completely and forever.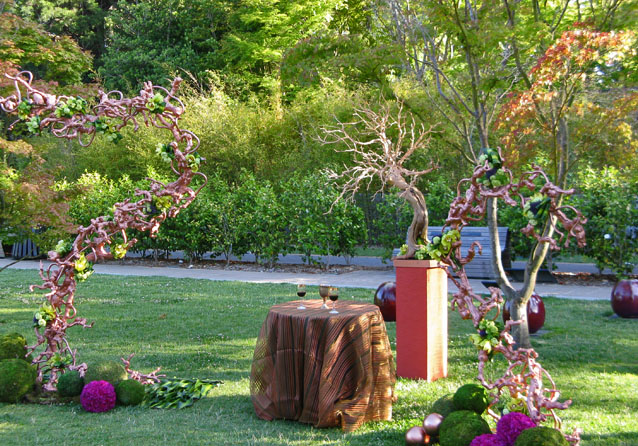 Ceremony Readings
Love does not consist in gazing at each other. But in looking outward together in the same direction. For in fact, man and woman are not only looking outward in the same direction, they are working outward. Here one forms ties, roots, a firm base. Here one makes oneself part of the community of human society. Here the bonds of marriage are formed. For marriage, which is always spoken of as a bond, becomes actually, in this stage, many bonds, many strands, of different texture and strength, making up a web that is taut and firm.

The web is fashioned of love. It is made of loyalties, and interdependencies, and shared experiences. It is woven of memories of meetings and conflicts; of triumphs and disappointments. It is a web of communication, a common language, and the acceptance of lack of language too, a knowledge of likes and dislikes, of habits and reactions, both physical and mental. It is a web of instincts and intuitions, and known and unknown exchanges. The web of marriage is made by propinquity, in the day to day living side by side, looking outward and working outward in the same direction. It is woven in space and in time of the substance of life itself.
"A Gift From the Sea" by Anne Morrow Lindberg
A man and a woman sit near each other, and they do not long
At this moment to be older, or younger, or born
In any other nation, or any other time, or any other place.
They are content to be where they are, talking or not talking.
Their breaths together feed someone whom we do not know.
The man sees the way his fingers move;
He sees her hands close around a book she hands to him.
They obey a third body that they share in common.
They have promised to love that body.
Age may come; parting may come; death will come!
A man and a woman sit near each other;
As they breathe they feed someone we do not know,
Someone we know of, whom we have never seen.
Robert Bly, The Third Body
Loving a Woman in Two Worlds, 1987
Pictures
Thanks to an amazing wedding photographer, and many gracious and talented guests with cameras, we now have thousands of photos to remind us of the week. We've collected a selection of the photos and provided links below to online albums.
Note that the professional images from the wedding were only available online until the end of August. If you had any pictures you wanted printed, just contact us since we have copies of the master images.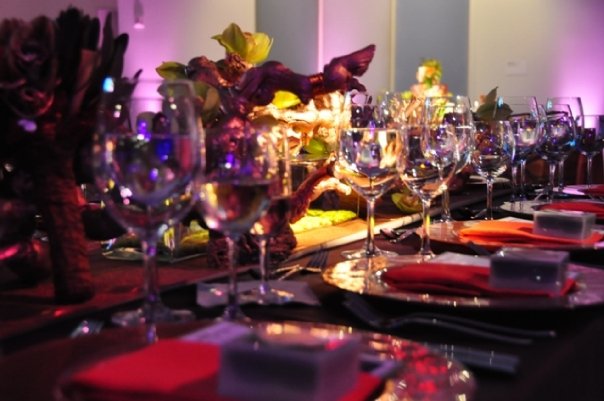 Official Wedding Slideshow
I Love Being Here With You, Diana Krall
(un)Official Wedding Week Slideshow
(by Todd Toney)
Just Kiss Me, Harry Connick Jr.
Photos provided by multiple guests
(hosted on Shuttlefly)
Welcome Dinner
Napa Valley
Angel Island
Rehearsal Dinner
Ferry Building Farmer's Market
Exploring the City
Ceremony and Reception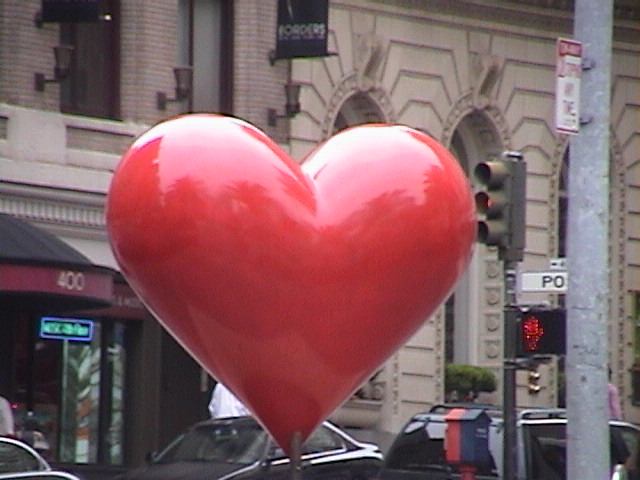 Memories
The week was filled with wonderful memories, and some of our guests were kind enough to send us some of their favorites.
---
I think one of my favorite moments was across the street at the Elephant & Castle on Friday evening when we "toasted" Kevin with 11 shot glasses of water and one shot glass containing Rumple Minze. Guess which one you had Kevin? It was funny to watch, because only 3-4 of us knew.

Dean is like "wait..I don't drink.." and Lauren basically said "Dean.. drink the bleepin shot!!" Dylan, your brother, etc all covered very well for being surprised with water…
- Patrick
---
While there were many moments to remember all the way to the end, I think one of the most memorable for me was actually a very touching moment rather than a humorous one. It was when you, with all your composure still intact, addressed your mom to tell her that NOW was when you were going to marry Lynne. As I watch my parents age I can't imagine how hard it must be to not have them there for those really major life events and that moment really got me.
- Lauren
---
I really liked the fact that Kevin's Grandmother was sensible enough to wear her white tennis shoes during the ceremony. The rest of the women wore their heels and probably sank into the turf.

The worried looks on the faces of Monica and Rumus, waiting for the shuttle on the Battery St side of the hotel, wondering why no one else and no shuttles were there even though the departure time was past. After I stopped the shuttle to get them on board, they said that the hotel staff had sent them out that side. (They must not have asked Josh.)
- Barney
---
Taking a picture of Dean each time he took yet another nap

Several people with posters yelling "shame on you" at us as we walked back into the hotel on Saturday morning "don't check in - CHECK OUT!!"

Drinking the shot of water Friday night knowing we had pulled the oh so hard to do trick of fooling Kevin as he drunk the only shot containing alcohol - especially looking at the faces at the other end of the table who did not know Patrick had ordered the 11 shots of water and 1 shot of alcohol

Michelle getting the bellman at the Marriott at pier 39 to get us two cabs for all of us at the tea for Lynne so we could rush back in time for the rehearsal

EVERY MOMENT of the weekend in a spectacular setting with great friends and without my 3 children!

And, pulling one last successful trick on Kevin with suggesting Dean text him that our airport shuttle had a flat and we were stranded on the highway
- Shelly
---
The look on the wait staff at the rehearsal dinner when Tom, Scott and John came in with their "Godfather" attire of sunglasses and pucca necklaces (direct from Fisherman's Wharf).
I suspect the secret service staff for the President of Estonia were watching them too!
- Kari
---
My favorite moment was watching the wedding vows where Kevin and Lynne promised happily to mock one another in perpetuity. Reminding us of the true meaning of marriage...
- Dean B
---
Not remembering Michelle Dube from her visit to Dartmouth. (I most often find myself in the reverse situation.)

Discovering that my favorite wine at Pine Ridge was not the $20 bottle or the $40 bottle, but the $80 bottle.

The feeling that I was eating lunch inside an Impressionist painting at Greystone.

The 360 degree view from the summit of Mt. Livermore on Angel Island.

Having dinner with (well, in the same restaurant as) the president of Estonia and getting to tell my dad about it.

"Jesu, Joy of Man's Desiring" played by the wind trio.

Kevin placing roses in memory of his parents.

Lynne, looking beautiful walking down the aisle with her parents.

So many details about the reception: music, food, views, decorations, surroundings, people.
- Elise
---
Not sure how many of you have heard this, but I had to share.

Sunday at about 11:15 I received a text message from Kevin, "Did you make it to the airport".

Since we were already at the airport, I consulted my traveling companions to determine the best way to reply: "Shuttle had a flat. Waiting on freeway."

I waited about 3 minutes and then sent another message: "Just kidding".

30-seconds later, a message from Kevin: "You idiot. I believed you." Apparently Lynne wouldn't let him write anything stronger.

I then called Kevin. After receiving the first message, he had frantically looked up our itinerary and was racing to figure out what to do.

I really do appreciate his concern, but I really thought he would know us better by now.
- Dean
---
Getting constant marriage advice from Josh the hotel bellman.

Seeing the look of utter confusion on the face of the Cuvaison employees when I walked into the winery and said "the bus is here".

Holding a rehearsal dinner with secret service protection.

Listening to David Hansen try to order a long complex list of Subway sandwiches for the bridal party from a middle-aged Chinese woman who could barely speak English.

Watching everyone scramble to turn off the museum security alarms before we could start the ceremony.

Walking into the reception and seeing everyone wearing the escort cards as name-tags (we had never even considered that happening).

Getting punk'd not once, but twice, during the week!!

And, to top it all off, after successfully planning every minute of every hour of every day for every guest, I got the day wrong for the limo to take us back home. What's another day in San Francisco? Ooops...
- Kevin
---
Vendors
We would like to thank all of our vendors for planning and executing a wonderful event. It is because of them that we were able to truly enjoy each day worry-free.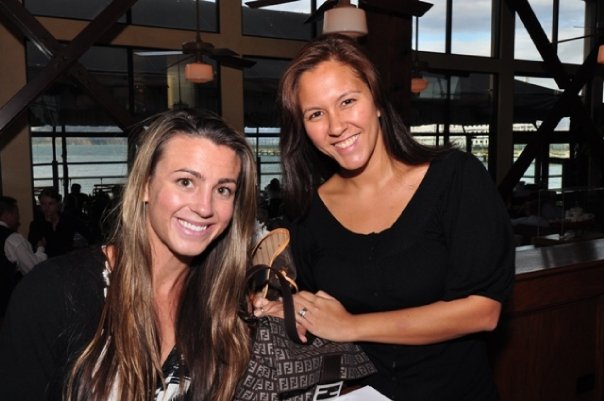 Wedding Coordinator
Amazae Special Events, Crystal Lequang
Crystal and her team were the masters of design, planning, and execution!! And she could easily keep up with our detailed spreadsheets and planning. We have no idea how you could do something like this without a talented coordinator.
Stationary
Marizette Paperie
Clean, contemporary, and unique designs that were fit for framing.
Photographer
Jennifer Skog Photography
Jen shows an amazing eye for light and perspective in all of her work, and
I can still hear her telling us "ok, show me some luvins!!"
Catering
Grace Street Catering
Not only did we get stellar food and wine, but it was an amazing sight watching the servers work the room.
Floral Design
Asiel Design
Contemporary, colorful, and unique designs. Perfect.
Wedding Cake
Cake Coquette
What more could we ask for in a cake that tasted as good as it looked?
Videographer
Studio MSV
Ceremony & Reception
de Young Museum
Ceremony Music
San Francisco Conservatory of Music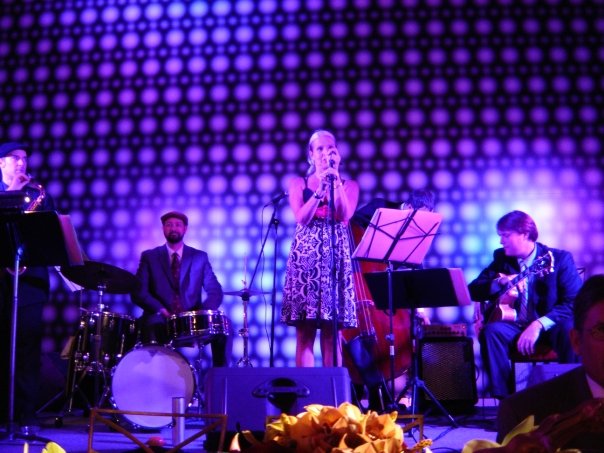 Reception Music
Jelly Roll, Belinda Blair
The perfect music and performance for both our wedding and the venue. Now we need to go hear them when we're not the center of attention.
Officiant
Works of Heart, Heron Freed Toor
Heron really helped us articulate the sentiments that we wanted to express, and put it all together into a beautiful ceremony. And she was so much fun!!
Hair and Makeup
Natural Images
Lighting
Enhanced Lighting and Sound
Linens
Wildflower Linen
Wedding Favors
Saratoga Chocolates
Transportation & Valet
Corinthian Parking
Welcome Dinner
Palomino
Napa Valley Tours
Cuvaison Winery
Pine Ridge Winery
Culinary Institute of America, Greystone
Mumm Napa
Angel Island Tour
Blue and Gold Fleet
Rehearsal Dinner
Waterfront
---